POSTINGS
Mastering Multiplication: A Game
Multiplication has caused many headaches across the ages for students, parents, and teachers. It's one of those things that even if you understand why it works, you must memorize the "times tables." My fourth grader started learning multiplication last school year. He has tons of strategies, and I see him fall back to addition many times. But he displayed the eagerness of a stubborn donkey when it came to memorizing his multiplication facts so I knew it was time for a little innovation.
So here is an easy game that requires only a deck of playing cards and two willing participants.
The Rules
 

Numbered cards are face valued. Ace=1, Jacks=11, Queen=12, King=whatever your child needs practice on.

 

The player who collects the most pairs wins.
How to Play
Shuffle the deck. Deal the entire deck to the two players. DO NOT LOOK at your cards.
Each player plays the top card off of their stack.
The first player to correctly determine the product of the two numbers takes the cards.
Repeat until all cards are played.

 

If both players state the correct answer at the same time, it is a tie. Players take their own card and randomly reinsert it back into their stack of playing cards.
So the first player to answer "eleven" takes both cards. Then each player deals their top card.
Be flexible and have fun. Use the spirit of competition to work on fast recall of multiplication facts. Each time you play, congratulate your child on getting better. You will, too! Eventually, you will have a multiplication guru on your hands. Then you can train him to do your taxes. Just kidding!
Friday Photo Edit

I love taking family pics. This one of my sweet husband and our newest baby boy really caught my eye. It's like a "before and after" picture!
I wanted to highlight their faces, so I saw the opportunity to make the most of a black and white treatment and a quick edge burn. I used a light adjustment layer, a gradient layer for the b&w adjustment, and a quick edge burn in PSE8. Then I used an action from Paint The Moon for a quick rounded corners frame on a light gray background. Viola!

Adobe Photoshop Elements 10
is now out, and I really recommend PSE if you have a decent camera and want an easy way to do fabulous things with your pics. It's very affordable, and it does all that I need it to do.
Posted 3 years ago
13 notes
The Versatile Blogger
I am honored to have been awarded The Versatile Blogger by not one but two of my esteemed fellow bloggers. I am very touched to have been recognized by others out there doing the same thing that I am doing in her own way.  From the first time that I visited Little Miss Nerd Girl's blog, I felt a kinship with Lacey. Not only are we both mom bloggers, but we are also both proud nerds! J Before I had a chance to write this post, I received notice from Shelomita over at The Cute Coconut that she had nominated me for the Versatile Blogger Award as well! Thank you ladies! I am truly honored to be recognized by my fellow bloggers!
By accepting this award I agree to do the following:
 Thank the blogger who awarded me with a link back to him/her.

 Share seven things about myself.

 Pass the award on to fifteen other newly discovered blogs.
I wanted to share things that might surprise you about me even if you know me personally. I could be here all day, but here are just seven.
 

I collect nerdy, physics/science/math humor t-shirts. I love them. I would order my entire wardrobe from Think Geek if my budget and my husband would allow it! When I have time, I will make a t-shirt with WWPD? on it. (Translation: What Would Piccard Do?)

 

I love to knit, but with very young children I do not have the time anymore. Knitting is one of those things that you have to do with two hands, and if you have an emergency and need to toss it aside, it can get really screwed up. Until I get to knit again, I will just revel in wearing my hand knitted socks. They are sooo comfy!
 I am horrified at the abundance of harmful chemicals in everything we touch. From toxins to carcinogens to endocrine disruptors, evidence is linking the exponential rise in cancer, learning and behavioral dysfunction, and illnesses such as diabetes and heart disease to the chemicals in our household cleaners, plastic packaging, pesticides, and more. This has motivated me to make BIG changes in my choices and was my motivation to create GreensLlist.net so that I can educate others.

 

I love to cook! I make almost everything from scratch. In an effort to get away from processed foods and improve my family's overall health, I try to stick with whole foods and organic, non-GMO ingredients. I grow as much produce as I can in my organic garden. I have thirteen beautiful hens and two showy roosters. Having an abundant supply of fresh eggs is a wondrous thing! Next spring, I hope to get the back pasture fence repaired so that I can get a steer calf to feed out for our own beef. I am slowly working toward as much self reliance as I can muster while being a busy mom.

I am a tomboy. I usually don't wear makeup, I don't get mani/pedis, and I don't own a designer anything save my Vera Bradley backpack purse that was a great suggestion by my chiropractor. I love to build things, fix things, and occasionally destroy things. I have custom wired several of my husband's guitars and have installed new pickups in three of them. I have also built a 5" Dobsonian telescope from scratch with plywood, screws, and a very large cardboard mailing tube.

I am the joyous mother of three amazing little boys. My boys are 9, 2, and 4 months. Each day is full of drama, diapers, homework, sippy cups, nursing, and toy cars. I absolutely love it. I am so thankful that I get to be a stay-at-home mom now. I worked as a high school physics teacher for twelve years until 2 ½ years ago. It is a blessing that I can never adequately describe. Of course we could have more material possessions if I were bringing home another professional salary, but someone else would be raising my children. Cutting back on things is totally worth being able to be there for my children any time they need me.
 I love to write. It is a joy that I had when I was young but lost sight of as I became older. For many years, I never had the time to write. When I started blogging three years ago, it helped me rediscover a part of myself that I am so very happy to have found. I write with my heart. I write about what I know. I hope that it brings enjoyment to others as it does to me.
I am thrilled to pass the Versatile Blogger Award on to these deserving, newly discovered blogs! There are so many that I love, I could give away more, but I looked for bloggers who hadn't received the award yet. So drum roll…… Here they are! Congratulations! You rock!!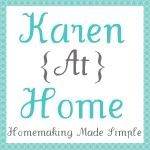 Lara
I am a mom of 3, femivore extraordinare, blogger, children's book author, and I am blessed to be the stay-at-home anchor of my family as I work from home protecting families from the dangers of household toxins.
Be careful! If something were to happen to the momma, the whole ship would sink!
-My Hunky Husband
Awards
Grab My Button